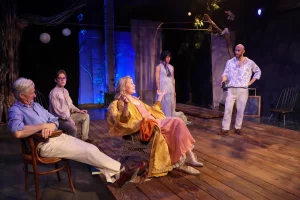 Don Shirley – Angeles Stage
But this summer's crop of classics includes a genuine surprise in the usual list of venues. Have you heard of South Pasadena Theatre Workshop?
I had not, until a few weeks ago. But last weekend I entered this company's 60-seat theater, where I was transported to Russia, two turns-of-the-century ago, in mesmerizing productions of "The Seagull" and, yes, "The Cherry Orchard," which are alternating in rep, in a package called "The Chekhov Project."
These plays are universal but also ripe for right now. Most of "The Seagull" is set in summer at a lakeside estate. The script includes an outdoor performance of a play-within-the-play (the "Project" itself, however, is entirely indoors). Only the last of four acts is set in the winter — two years later.
Although "The Cherry Orchard" begins in May, at a similar estate, most of it is set in the subsequent summer. In this production we witness, on a chalkboard at the side of the stage, the countdown of days remaining until the estate will be sold at an auction in August.
"The Seagull" — the first of Chekhov's four masterpieces — is famous for its focus on the pain and inadvertent comedy of unfulfilled romance. Just about every character is falling for someone else, who is falling for someone else…and round and round the feelings fracture. The company is using the version that Dakin Matthews adapted in the '80s, with Sydney Walsh directing. Three understudies appeared at the performance I saw, but not one moment seemed amiss because of the subs.  Read more…