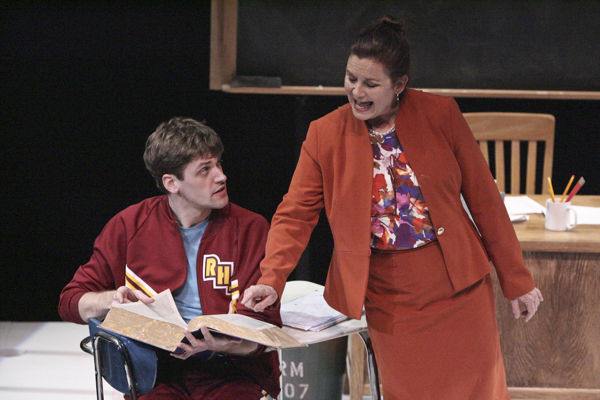 Les Spindle – Edge on the Net
The best news about the Colony Theatre's production of Lissa Levin's comedy "Sex and Education" is the star performance of Stephanie Zimbalist, the accomplished veteran of stage, film and television, who is perhaps most widely known for her role as a sexy detective in the hit 1980s television series "Remington Steele." Read more…
Don Shirley – L.A. Observed
Sex, basketball and cheerleaders. Two productions that opened over the weekend at two of Greater LA's midsize theaters share these popular topics. Let no one say that the stage focuses only on the more esoteric concerns of the elite.
At Burbank's Colony Theatre, the title is "Sex and Education." But basketball, cheerleaders and selling houses are also on the agenda in Lissa Levin's probing comedy set in a high school classroom. The school's hoops star Joe (William Reinbold) and his English teacher Miss Edwards (Stephanie Zimbalist) are both on the verge of graduation – he to college and then (he hopes) the NBA, and she to a new career in real estate.
Margaret Gray – LA Times
It's hard to think of a clearer instance of preaching to the converted than a play in which a grammarian gets the best of an athlete. The Colony Theatre Company's spirited production of Lissa Levin's entertaining, sitcom-y "Sex and Education" gives us Stephanie Zimbalist ("Remington Steele") as Miss Edwards, a deliciously dry, jaded English teacher whose belief in the importance of grammar has relegated her to a life of solitude and frustration. Read more…
Now running through March 16.