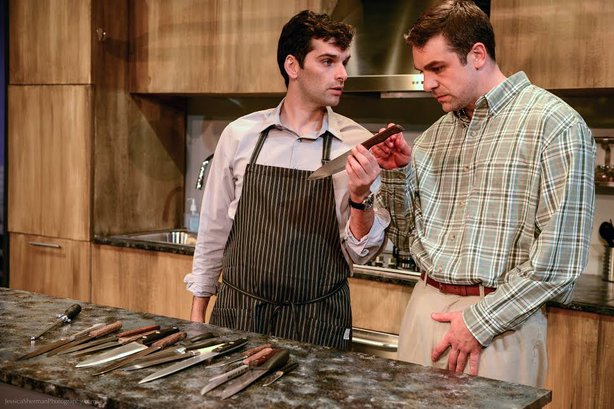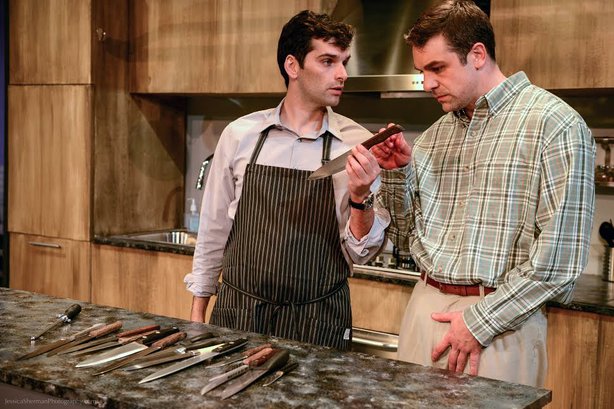 BobVerini – Arts In LA
The premise of Benjamin Brand's Taste, as the management of Sacred Fools Theater Company has been unabashedly eager to trumpet in preopening publicity, is a compact made between two men to meet for dinner, at which the guest is to be killed, butchered, cooked, and eaten by the host in what must qualify as the most unusual, and surely the most potentially savory, assisted suicide of all time. Read more…
Pauline Adamek – Stage Raw
Two men meet on the Internet and forge an unholy pact.
Screen and television writer Benjamin Brand's first play, Taste, is based on a bizarre, true-crime episode from 2001, for which a German man named Armin Meiwes was convicted and eventually sentenced to life imprisonment.
Every grisly detail of the actual event was videotaped, so Taste is a factual play that reenacts the meeting between the two men and powerfully unfolds in real time.
It's chilling stuff, yet it's also inexplicably hilarious. Read more…
Terry Morgan – Talkin' Broadway
When one reads about a new play concerning cannibalism, directed by Stuart Gordon, the man who brought the world Re-Animator, one has certain preconceptions. Or at least I did. I presumed it would be gory and darkly humorous, and I was correct in those assumptions. What I didn't expect was that it would be an essentially serious and weirdly touching character study, and I was pleasantly surprised by the brilliant performances. Read more…
Myron Meisel – The Hollywood Reporter
The fastidious Terry (Donal Thoms-Cappello), well-schooled from television chefs such as Jacques Pepin, caramelizes some onions in his carefully arranged apartment, the set of which consists primarily of a kitchen. Director Stuart Gordon, a gorefest connoisseur, invokes sensory recollections of cinematic Smell-O-Vision with the cepaceous aroma, when the awaited visitor comes to the door. Read more…
Deborah Klugman – LA Weekly
It's hard to conceive of a more bizarre and revolting tale than the one re-imagined in Taste, Benjamin Brand's reality-based play about a pact between a man with cannibalistic desires and the willing victim he solicits on the internet. The actual event – preserved by the perpetrator on videotape – took place in Germany in 2001, and included a mutual agreement to begin their enterprise by severing and then jointly dining on the victim's penis. Brand spotlights the incident in the play, which emerges not as the egregious gore-fest I had anticipated with some dread but as a discerning (if stomach-churning) drama, featuring two of the best performances I've seen in a while.]
Hoyt Hilsman – Huffington Post
Benjamin Brand's play, based on the 2001 incident in Germany in which a man agreed to be killed and eaten by another man (dubbed the Rotenberg Cannibal) has been justifiably praised for impeccable performances by Donal Thoms-Cappello and Chris L. McKenna, as well as for the audacious tackling of the subject matter by Brand. Read more…
Now running through May 31.