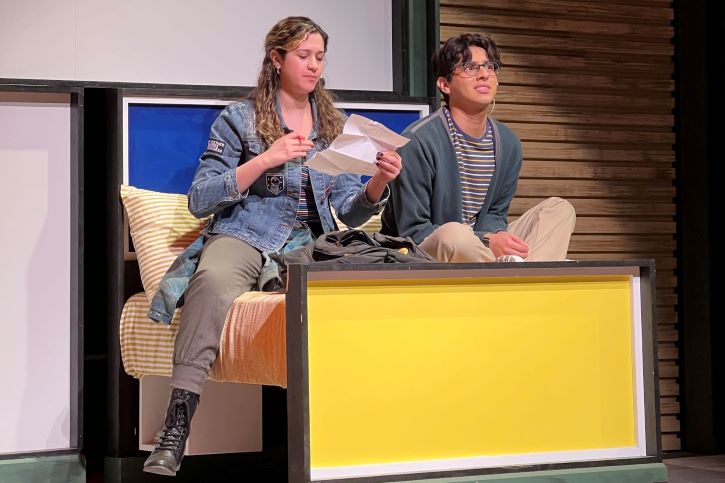 Rob Stevens – Haines His Way.
Edmond Rostand wrote his classic romantic comedy Cyrano de Bergerac in 1897. According to Wikipedia, the original French play has been translated at least 16 times since then…
The latest version to play locally is the 2006 musical Calvin Berger with book, music & lyrics all by Barry Wyner, currently playing at Burbank's Colony Theatre. Wyner has set his misconceived adaptation in a contemporary high school. He has cherry picked his plot points from the original play like he was choosing items off a Chinese restaurant menu—one from column A, one from column B plus an appetizer and a dessert. His plot sets off on the wrong note from the start by giving his Cyrano, here named Calvin (Frankie A. Rodriguez), a best gal pal Bret (Corinne Miller) who pines for him as much as he pines for the seemingly unattainable Rosanna (Jasmine Sharma). The opening number, "Security Meltdown," has Calvin obsessing over his extra-large nose (which is notably missing from the actor's face) and Bret about her large behind.
Katie Buenneke – Theatre Digest
Nothing about this show was specifically bad, but I was underwhelmed. With book, music, and lyrics by [Barry] Wyner, it's a musical adaptation of Cyrano de Bergerac, set in high school, and it manages to make me not hate the Cyrano character (Calvin here, played by Frankie A. Rodriguez), which is a rare feat. But the songs feel so self-contained, explaining their own context within the lyrics but lacking subtext, that they felt more designed for performance in a cabaret than part of an entire musical. Read more…