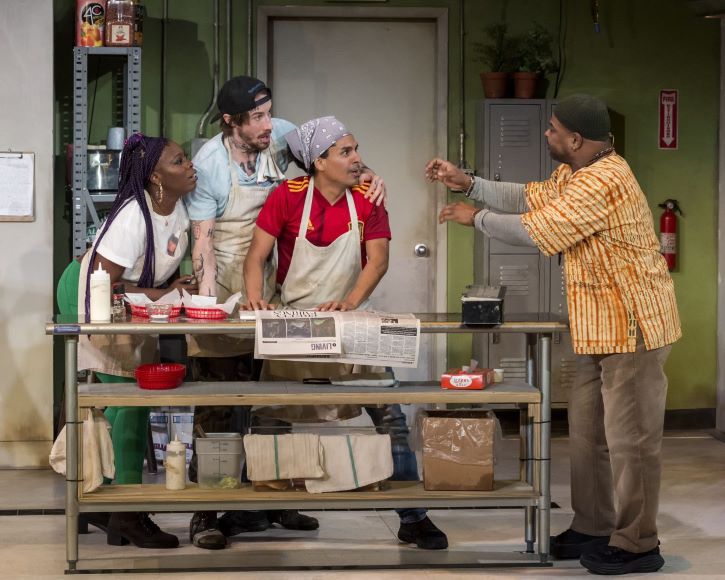 Terry Morgan – ArtsBeat LA
According to a survey conducted by American Theater magazine, Lynn Nottage's Clyde's is currently the most produced play in the U.S. It's not surprising that Nottage's work is being done; she's received the Pulitzer Prize twice during her illustrious career. But it's a little disappointing that this show seems to be her most popular. I think she's a talented playwright and have enjoyed several of her other creations, but I found this play to be meretricious and phony – I didn't believe a minute of it. The new production of Clyde's at the Taper is professionally done and features a capable cast, but the play itself feels more like a safe CBS TV sitcom than anything resembling reality. Read more…
Katie Buenneke – Stage Raw
A word to the wise: eat, preferably a sandwich, before seeing Clyde's at the Mark Taper Forum. After the show ends, you'll be hungry, not just for food like Montrellous (Kevin Kenerly), the executive chef of the titular diner, describes, but for an artistic experience that's more substantial than what you you've just seen onstage. Read more…
Margaret Gray – Los Angeles Times
"If you can't stand the heat, get out of the kitchen," advises a favorite proverb of tough-love advocates. And in a universe with free will and infinite possibilities, it's probably sound advice. Don't sit around grousing about your situation; find one you like better.
But what if there's nowhere else to go? What if that inferno of a kitchen is your whole world? Read more…
Tracey Paleo – BroadwayWorld
"Sometimes a hero is more than just a sandwich."
Quite possibly, a perfect production. Two-time Pulitzer Prize-winning playwright Lynn Nottage's Tony Award-nominated CLYDE'S at the Mark Taper Forum is heartfelt, funny, and seriously delicious.
From writing to performances, direction to delivery, costuming, scenic, sound, and lighting design, opening night saw 100% on the Richter scale of live theater. Read more…
Through December 18