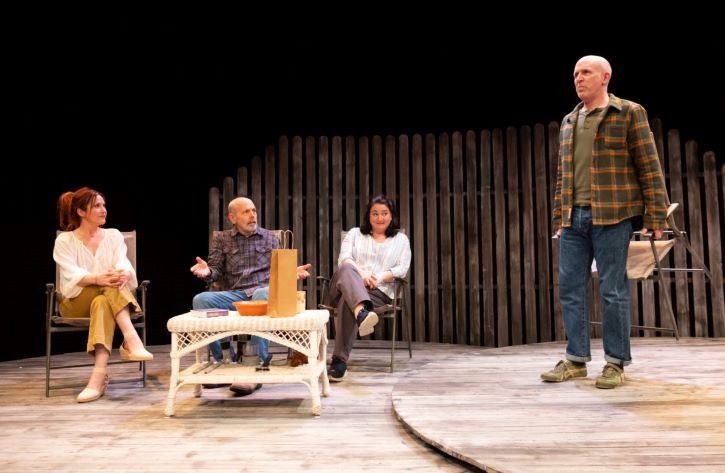 Terry Morgan – ArtsBeat LA, reviewed at Rubicon Theatre, January 2023.
The first time I saw a play by Will Eno was about 15 years ago, by Circle X Theatre Company of The Flu Season. It was an excellent production in many ways, but there was one scene in which a character died, and instead of having the character stay prone, the actor got up, walked into the audience and exited the theater. It was a surprising and effective moment – that character was really gone in such an abrupt way that I felt the loss– and it made me take note of the playwright. He's much more widely known now, and has been nominated for – or won – many awards, so it's a bit surprising that his 2014 play The Realistic Joneses has taken so long to get a Southern California premiere. Thankfully, now it has in a terrific production currently at the Rubicon Theatre Company in Ventura (it will be staged at the Laguna Playhouse in late April), featuring a quartet of actors so good it'd be hard to imagine a better cast. Read more…
Dana Martin – Stage Raw, reviewed at Laguna Playhouse, May 2023.
Co-produced by the Laguna Playhouse, Gare St. Lazare Ireland and the Rubicon Theatre Company, The Realistic Joneses by Will Eno is a humorous, meandering examination of life's mundane tribulations…Will Eno's writing style has been described as absurdist and cerebral. The dialogue appears trivial on the surface; much is said yet little is conveyed. Both couples' chronic failure to connect creates a profound sense of loneliness. There's a fragmented yet familial way in which the dialogue moves, and the constant non-sequiturs draw levity from sensitive subject matter as well as glimmers of vulnerability. Read more…
Patrick Chavis – The Orange Curtain Review, reviewed at Laguna Playhouse, May 2023.
What is real? Is there such a thing as something more real than real? Watching shows like The Realistic Joneses, playing now at the Laguna Playhouse for a short run from April 26 – May 14, makes you question what we take for granted as real. It's jarring and done simply through language and minimal setting. Read more…