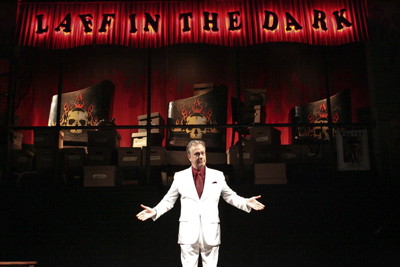 Pauline Adamek – ArtsBeatLA
Striking a perfect balance between scares and laughs, Play Dead delivers plenty of delicious thrills, macabre chills and giggles. The one-act show features Todd Robbins as our ghoulish host and runs through December 22 at the Geffen Playhouse.
Read more…
Bob Verini – ArtsInLA
Back in the heyday of the great movie palaces—roughly the Depression until TV conquered all sometime in the 1960s—many a management would supplement the regular bill of double-feature and selected shorts with late-night live magic shows. These last gasps of vaudeville, known as "spook shows," proved to be a great training ground—for illusionists who yearned to practice their skills before an audience….
Sharon Perlmutter – Talkin' Broadway
Sure, I could nitpick Play Dead—the cross between a play and a magic show, sprinkled with a bit of haunted house, currently playing in the small Audrey Skirball Kenis theatre at the Geffen. But every time I start to do so, I keep coming back to the inescapable fact that I spent the great bulk of the show's 80-minute running time with a great big smile on my face and my pulse racing—and I'm pretty darned sure that's exactly what the show's creators, Todd Robbins and Teller, were aiming for. Read more…
Now running through December 22.