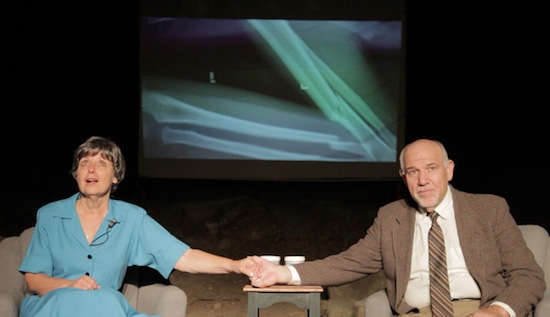 Deborah Klugman – LA Weekly
As a storyteller, Joyce Carol Oates frequently traverses aberrant corridors of the human psyche. That's readily apparent in this 1990 (since updated to 2003) one-act, about a middle-aged couple, Frank and Emily Gulick (Alan Blumenfeld and Katherine James), whose son has been accused of the brutal rape and murder of a 14-year-old neighbor. The couple's nightmare compounds a thousandfold as they are interviewed live on TV and interrogated about an event too horrendous for them to accept.
Pauline Adamek – ArtsBeatLA
The works of prolific author and playwright Joyce Carol Oates are being presented at Theatricum Botanicum for a select handful of performances. The evening features four short monologues by the multiple award-winning, three-time Pulitzer Prize-nominated author, followed by the one-act play Tone Clusters.
Read more…
Now running through October 12.