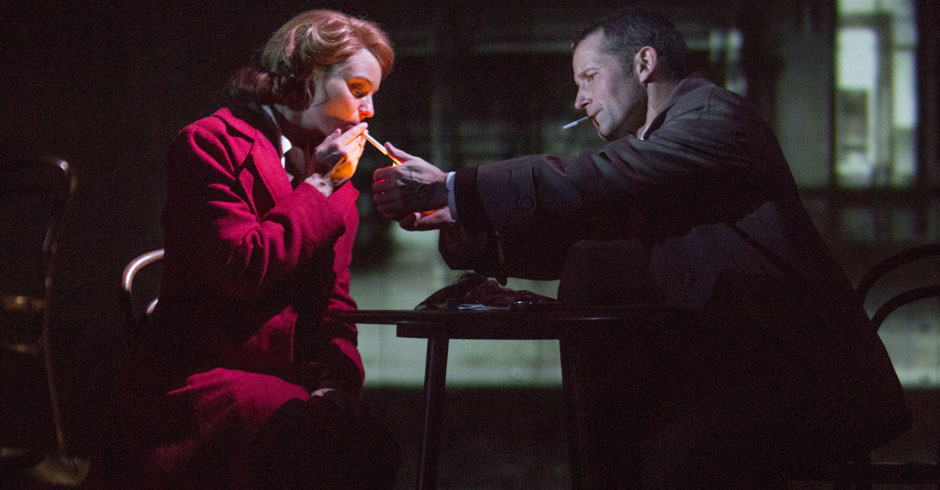 Myron Meisel – The Hollywood Reporter
Possibly his most recognized work, Noel Coward's screenplay for David Lean's 1945 British film Brief Encounter, with its proper and decent married lovers resolutely resisting adultery, was indubitably the adult romance of its time, with the swells of Rachmaninov's Second Piano Concerto counterpointing the personal sacrifice of ardor for order and honor. What could be more archaic or ripe for ridicule in an era characterized by hookups on the one hand, and the puritanical concept of an "emotional affair" on the other, making a hash of moral distinctions based on actual behavior? Read more…
Pauline Adamek – ArtsBeatLA
Noël Coward's 1936 one-act play Still Life was expanded into a feature-length film, directed in 1945 by David Lean and scripted by Coward.
Now UK's Kneehigh Theatre has brought their version to the Wallis, adapted and beautifully directed by Emma Rice. In this lively staging (which essentially is a mixture of the film and the short stage play) the basic plot line remains yet it is spun into a frothy confection of bittersweet romance enhanced by lush cinematic projected visuals, puppetry, live music, song and dance interludes and mild comedic flourishes. Read more…
Sharon Perlmutter – Talkin' Broadway
I often think it's a shame that most of our medium-to-large stages in town are generally only used to bring in out-of-town shows, instead of highlighting some of our best local companies. I'd love to see what Evidence Room or Antaeus could do with a bigger stage and a decent budget, for example. Read more...
Now running through March 23.